You guys remember
Cheryl
, right? Cheryl blogs about food, family, photos, crafts and keeping at tidy home at
TidyMom
. (Yes, she does it all.) I'm lucky enough to call her a real friend and even got to
visit her
in St. Louis over the summer.
Well, Cheryl is sharing a Candy Bar Cheesecake with us today. A perfect excuse to use up that extra Halloween candy....or to buy some 1/2 price!


Hi there!!! I'm Cheryl from
TidyMom
, where I share my passion for good easy recipes, photography and any thing creative!
Bridget is my cookie idol! If it wasn't for her, I don't think I ever would have tried working with royal icing.
Bridget and I have many things in common, especially
our love of BAKING
! Baked goods can turn a frown upside down. They can make a bad day better or simply remind people that you're thinking about them.
I would bake every day if my hips didn't get so ugly about it!
If your house is like mine, you have an over abundance of those tiny little tempting candy bars all over your house (my 14 year old likes to hide her trick-or-treat booty). So I have the perfect solution to use up many of them all at one........I
think
if you
eat 20 mini candy bars in a cheesecake
, the calories are the
equivalent to just one candy bar
.....I THINK........but don't quote me on that! HA!
So here we go........grab your aprons! This was my first time making a cheesecake! It was so easy and fun I can't wait to make more!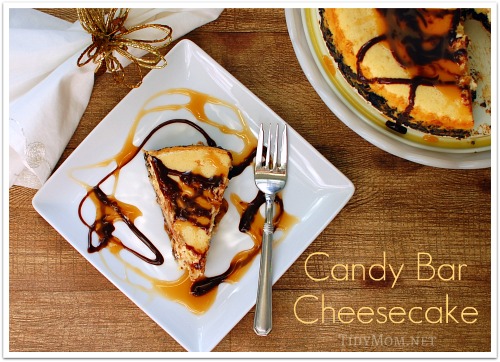 Candy Bar Cheesecake
recipe from
Betty Crocker.com
Ingredients:
| | |
| --- | --- |
| 1-1/2 | cups crushed chocolate wafer cookies (about 25 cookies) |
| 1/3 | cup sugar |
| 1/3 | cup butter, melted |
| 2 | packages (8 oz each) cream cheese, softened |
| 1 | can (14 oz) sweetened condensed milk (not evaporated) |
| 3 | eggs |
| 2 | teaspoons vanilla |
| 20 | Twix bars (fun-size) candy (or your favorite candy bar), unwrapped, cut into quarters (about 2 cups) |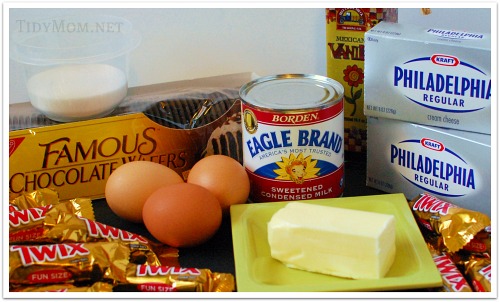 Directions:
Heat oven to 300°F. Spray 9-inch springform pan with cooking spray. To minimize cracking, place shallow pan half full of hot water on lower oven rack.
In medium bowl, mix cookie crumbs, sugar and butter. Press into bottom of pan.
Open candy bars and cut each one into 3-4 pieces, set aside.
In large bowl, beat cream cheese and sweetened condensed milk with electric mixer until smooth. Beat in eggs, one at a time, just until blended. Stir in vanilla and candy bars. Pour over crust.
Bake 40 to 50 minutes or until edge of cheesecake is set at least 2 inches from edge of pan but center of cheesecake still jiggles slightly when moved. Run small metal spatula around edge of pan to loosen cheesecake. Turn oven off; open door at least 4 inches. Let cheesecake remain in oven 30 minutes. Cool in pan on cooling rack 30 minutes. Refrigerate at least 6 hours or overnight.
Just before serving, run small metal spatula around edge of pan; carefully remove side of pan. Drizzle with Chocolate Syrup and Caramel Syrup or topping. Cover and refrigerate any remaining cheesecake.
Enjoy!!
Thanks Bridget, for inviting me over! I hope you all will come visit me for more fun at
TidyMom.net
!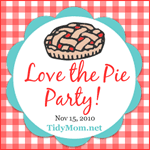 PS- I'm having a
Love The Pie party
on Nov 15 - get your pie recipes ready to link up and share.....there will be prizes and lots of FUN!
See you there!!